Why Western retailers are scrambling to get a foothold in Indonesia
Consumer spending makes up more than half the Indonesian economy, making it an attractive new market for Western companies like L'Oreal whose traditional customers are in recession-mired countries.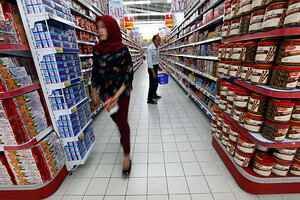 Enny Nuraheni/Reuters/File
Consumer companies in the United States are suffering from a prolonged economic slowdown, and recent figures show the European economy is shrinking. So deep is the malaise in the West, some are calling this the lost decade.
But many emerging markets in Asia are powering ahead, and Indonesia, to the surprise of many, is leading the pack.
In recent weeks shopping malls, superstores, and outdoor markets here have been packed with shoppers stocking up for the Eid al-Fitr celebrations that mark the end of Ramadan, a month when Muslims fast from dawn to dusk. In Indonesia, home to the world's largest Muslim population, spending spikes during Ramadan as Muslims buy food for elaborate fast-breaking ceremonies. Toward the end of the festive season, which concluded this weekend, they also buy new clothes, and increasingly, big ticket items like cars and electronics.
In years past consumers would spend a year's worth of savings on the holiday. But spending like this now occurs throughout the year.
A strong economy, rising wages, and easier access to credit are the main factors driving domestic spending. And as wealth levels rise, Indonesian consumers have begun to splurge on higher quality brands.
'It's down to lifestyle'
"It gives me a shock how women here shop," says Patricia Mulyadi, a public relations executive pondering the $45 price tag on a black ruffled skirt at Zara, a Spanish clothing retailer, in one of the city's ritzier shopping malls. She says she spends more on her clothes and personal appearance because she feels the pressure to keep up with friends.
---