Island dispute, 'comfort woman' statue put edge on Japan-South Korea ties
Claims and counterclaims over rocky islets are testing steadily improving ties between Japan and South Korea – and the presence of a controversial statue across from Japan's embassy in Seoul adds a sharp reminder of historical resentments.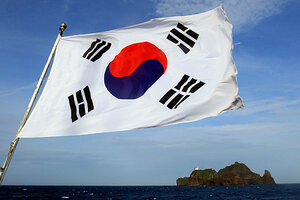 Han Jong-chan/Yonhap/AP
Diplomats at the Japanese embassy here can hardly decide what's more troublesome, nonstop quarreling over a pair of rocky islets between mainland South Korea and Japan or the furor surrounding a statue of a woman opposite the Japanese embassy.
"The Korean government says there is no territorial problem," says Masato Suzuki, who has worked at the Japanese embassy here for three years, "but Japan has stressed there is a problem."
The problem revolves, as it has since the Japanese surrender in 1945, around the islets that Koreans call Dokdo and the Japanese call Takeshima, in waters the Koreans call the East Sea and the Japanese the Sea of Japan. A South Korean garrison holds the islets, rocky promontories where no one lives permanently, where there's no arable land, and where no boats are regularly moored.
The fact that the islets are basically useless, however, does not appear to be much of a consideration in exchanges of claims and counter-claims that threaten what had in recent years been an improving relationship between Japan and South Korea.
Japan's Prime Minister Yoshihiko Noda sent a letter proposing to have the case adjudicated before the International Court of Justice. South Korea, however, has not only rejected that idea but has refused to accept Mr. Noda's letter – and returned it by registered mail after Japan's foreign ministry refused to take it from a Korean diplomat who sought to return it in person.
---