What's behind the China - Japan island dispute?
Elements of the dispute include a Ming Dynasty map, a US treaty, and a fish factory. The following is a basic breakdown.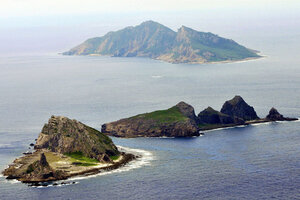 Kyodo News/REUTERS
The dispute over the Senkaku Islands, five islets and three rocky outcroppings, revolves around who got there first. China calls them the Diaoyu Islands and dates its authority there to the 14th century. Japan annexed them in 1895 after finding them uninhabited. Here's a basic breakdown of the dispute.
What is Japan's claim?
Japan's foreign ministry cites surveys in 1885 confirming they were "uninhabited" with "no trace of having been under the control of China." The government of Japan in January 1895 decided to incorporate the islands and to place a marker on one of them declaring them to be part of Japan.
But what do the Japanese say to the Chinese claim that the islands appear on Ming Dynasty maps?
Neither the Communist government that had taken over the Chinese mainland in 1949 nor the "Nationalist" Chinese government, driven to the island province of Taiwan, objected when the San Francisco Peace Treaty of 1951 placed the islands under US administrative control.
Why were the Americans in charge?
US forces drove the Japanese from the island prefecture of Okinawa in June 1945 in the worst Pacific battle of World War II. The islands, 220 miles southwest of Okinawa, had been governed by Okinawa under the Japanese.
---