Japan takes cautious tone in dispute with increasingly assertive China
Japan's government has been noticeably restrained in its statements about a bitter dispute with China over islets in the East China Sea. Anti-Japanese protests in China have spread to dozens of cities.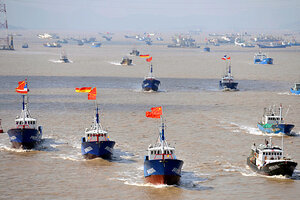 Reuters
Tokyo is running short of options in dealing with its increasingly assertive giant neighbor over disputed islands in the East China Sea, as the United States attempts to remain neutral and calls for calm from both sides.
In China, anti-Japanese demonstrations have now spread to as many as 100 cities as tensions mount over Japan's purchase of islands it calls the Senkaku and China calls the Diaoyu. The islets, which were owned by a Japanese family, lie between the two countries.
China reacted angrily to the brief landing Tuesday of two Japanese protesters on the main island of the group, even as a large flotilla of Chinese fishing vessels and a separate group of surveillance ships were heading for the disputed territories.
"The unlawful landing of the Japanese right-wingers on the Chinese territory of the Diaoyu islands was a gravely provocative action violating Chinese territorial sovereignty," said Foreign Ministry spokesperson Hong Lei in an issued statement.
The Japanese government has been noticeably cautious in its own recent pronouncements on the dispute, no doubt wary of inflaming passions further in China, where Sept. 18 is remembered as the day of the Liutiaohu (Manchurian) Incident that was used as an excuse by Japan to invade and occupy Manchuria.
---