Oppan Gangnam Style! Psy comes home to Korea in triumph.
Park Jae-sang, better known as 'Psy', played a free concert last night in Seoul after his viral hit song 'Gangnam Style' broke YouTube records and shot him to international stardom.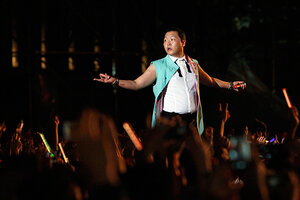 Kim Hong-Ji/Reuters
The figure on the sprawling stage was barely visible to most of the 80,000 people massed on the Seoul City Hall plaza but came through far larger than life on three huge screens high above.
'ÄúPsy, Psy,'ÄĚ they yelled as he appeared from the shadows of the set. The K-pop 'Äď or Korean pop music 'Äď star, whose real name is Park Jae-sang, launched into two hours of prancing, singing, and rapping backed up by a dozen dancers. ¬†
'ÄúI knew one of these K-pop stars would hit the world,'ÄĚ Psy tells his cheering audience, 'Äúbut I didn'Äôt know it would be me.'ÄĚ
It was, in fact, a homecoming welcome for an overnight sensation whose 'ÄúGangnam Style,'ÄĚ a paean to the lush life in Korea'Äôs richest district, is topping the charts in the US and Britain and is heard and seen on screens all over Korea.¬†
'ÄúHe said if 'ÄėGangnam Style'Äô hit the Billboard chart, he would have a concert in front of a crowd in Seoul City Hall Plaza,'ÄĚ says Lauren Suk, an official in the new glass-walled city hall that looms above the plaza. 'ÄúHe wanted to keep his word. This is an iconic place.'ÄĚ
How is it that K-pop, so fluffy and repetitive, has caught on globally?
'ÄúThe music and style is very upbeat and fun without the usual western cynicism and overt sexuality,'ÄĚ says Mark¬† Russell, author of 'ÄúPop Goes Korea,'ÄĚ a book about the K-pop phenomenon. 'ÄúThe videos and fashion and dancing are super-splashy and over the top.'ÄĚ
Braggadocio and self-deprecation
Psy, he says,¬†embodies this spirit of K-pop¬†'Äď though not entirely.
He may be 'Äúunusual for a star in terms of appearance,'ÄĚ says Mr. Russell. But 'Äúhis music is light, catchy, and fun'ÄĚ mixing 'Äúbraggadocio with slightly self-deprecating lyrics.'ÄĚ
The son of a wealthy businessman who lives in Gangnam, Psy went to the US to study management at Boston University, then switched to music at the Berklee College of Music. He graduated from neither but learned to synthesize American and Korean pop music influences into the K-pop melange.
'ÄúPeople like American culture,'ÄĚ says Han Koo-hyun, director of the Korean Wave Research Institute here. 'ÄúThen they found similar and friendly culture from Korea. We made the Korean wave from American culture.'ÄĚ
Mr. Han acknowledges 'Äúsome people dislike American culture'ÄĚ but says the relationship between Korean and American styles is unavoidable. 'ÄúWhy not French or Japanese or Chinese?'ÄĚ he asks. 'ÄúThey have their own culture. It'Äôs not familiar to the people of the world. We accepted American culture.'ÄĚ
The Korean wave
At last night'Äôs concert, the Korean wave, or¬†hallyu, lapped up on Korean shores after having washed over audiences from Japan to the US, from China to Europe. Here was the wave'Äôs biggest sensation running through one number after another, responding to shouts in English of 'Äúencore, encore'ÄĚ with still more singing and dancing.
'ÄúGangnam Style,'ÄĚ of course, had to be the number the audience wanted most. Psy saved it for rather late in the show, then still later did it again.
'ÄúUsually people don'Äôt sing the same thing twice,'ÄĚ he said, imploring the audience to join in. 'ÄúThe first part you will sing, and the second part I will sing.'ÄĚ
The song gives an impression of rich sensuality, of the high life where high-end department stores, coffee shops, restaurants and nightclubs vie for customers, nowhere so much as in the Gangnam district south of the Han River that bisects the capital.
'ÄúI am Gangnang style,'ÄĚ begin the lyrics in tough translation. 'ÄúDuring the day, I am warm and kind as you. At night my heart bursts, I am such a man.'ÄĚ And then comes the refrain, almost shouted, 'ÄúBeautiful, lovely, hey it'Äôs you, it'Äôs you,'ÄĚ 'Äď 'Äúfrom now, lets take it to the limit, Gangnam style.'ÄĚ
It'Äôs the video, the moves of Psy and the dancers, that complete the song 'Äď shots of Psy dancing among smart cars, in a park, by the river, among beautiful women. The most famous shot may be Psy dancing toward the camera in between rows of horses in a stable, all to the high-stepping, arm swinging motion of what'Äôs called the horse dance.
The concert was all free, a gift from Psy and the Seoul metropolitan government, which picked up the tab for the lighting and sound equipment, the towering video screens 'Ästand security. Psy and his dancers and crew worked for nothing to show his gratitude to the people of Seoul, and the rest of Korea, watching live on TV.¬†
---