Oppan Gangnam Style! Psy comes home to Korea in triumph.
Park Jae-sang, better known as 'Psy', played a free concert last night in Seoul after his viral hit song 'Gangnam Style' broke YouTube records and shot him to international stardom.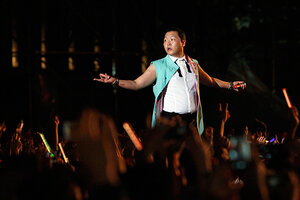 Kim Hong-Ji/Reuters
The figure on the sprawling stage was barely visible to most of the 80,000 people massed on the Seoul City Hall plaza but came through far larger than life on three huge screens high above.
"Psy, Psy," they yelled as he appeared from the shadows of the set. The K-pop – or Korean pop music – star, whose real name is Park Jae-sang, launched into two hours of prancing, singing, and rapping backed up by a dozen dancers.
"I knew one of these K-pop stars would hit the world," Psy tells his cheering audience, "but I didn't know it would be me."
It was, in fact, a homecoming welcome for an overnight sensation whose "Gangnam Style," a paean to the lush life in Korea's richest district, is topping the charts in the US and Britain and is heard and seen on screens all over Korea.
"He said if 'Gangnam Style' hit the Billboard chart, he would have a concert in front of a crowd in Seoul City Hall Plaza," says Lauren Suk, an official in the new glass-walled city hall that looms above the plaza. "He wanted to keep his word. This is an iconic place."
How is it that K-pop, so fluffy and repetitive, has caught on globally?
"The music and style is very upbeat and fun without the usual western cynicism and overt sexuality," says Mark Russell, author of "Pop Goes Korea," a book about the K-pop phenomenon. "The videos and fashion and dancing are super-splashy and over the top."
---