High hopes for Philippines peace deal with Muslim rebels
Both the government and Muslim leaders trumpeted the deal, but doubts remain over whether powerful Muslim clan leaders will be willing to lay down their arms as promised.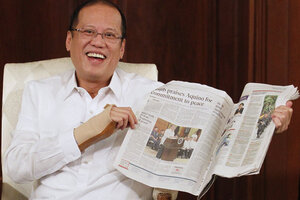 Cheryl Ravelo/Reuters
A deal to create a new Muslim autonomous region on the large southern Philippine island of Mindanao has raised high hopes of ending decades of fighting that have cost more than 150,000 lives, even as pervasive doubts persist as to how or if the arrangement will work.
With breakaway groups and local warlords still holding sway over significant stretches of jungle, the overriding question is whether rebellious Muslims will lay down their arms, as promised.
Both government and Muslim leaders heaped unreserved praise on the agreement reached yesterday that calls for giving Muslims broad powers while leaving the central government in charge of military and foreign policy. The name of the region would be "Bangsamoro," meaning Moro Nation – though officials said the Moros, as the area's Muslims came to be called during three centuries of Spanish rule, would still be subject to Philippine law.
Philippine President Benigno Aquino III, who engineered the deal hammered out in secret talks in the Malaysian capital of Kuala Lumpur, described it in glowing terms in a television address broadcast nationwide from Malacañang, the presidential palace.
Mr. Aquino said what he called "a framework agreement" would bring "all secessionist groups into the fold" in a region never completely controlled either by the Spanish, or the Americans who drove out the Spanish in 1898. Revolt has simmered and flared ever since the Philippines gained independence from the United States in 1946 after more than three years of Japanese rule in World War II.
Deal to be signed Oct. 15
---