Bali bombings: 10 years later, progress and some bumps ahead
After the 2002 Bali bombing, Indonesia cracked down on terror. But analysts warn lack of understanding about smaller cells could hamper efforts.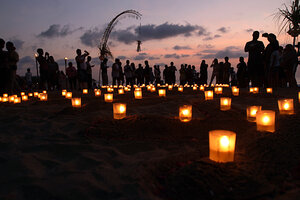 Firdia Lisnawati/AP
A decade after bombs ripped apart two nightclubs in Bali, killing 202 people including 88 Australians, 38 Indonesians and seven Americans, the terrorist organization responsible for those blasts looks weak and fractured. Intelligence warnings that another attack might take place during anniversary commemorations led police to step up security, but by Friday morning they were calling the threat, "not significant."
To honor the victims of the 2002 bombings, hundreds of people, including Australian Prime Minister Julia Gillard, turned out for an early-morning ceremony. Indonesia's Foreign Minister Marty Natalegawa gave a speech calling the attack, "nothing less than an assault on humanity," and said Indonesia remained committed to strengthening "the voice of moderation … and fighting extremism and intolerance in all its forms."
After the Bali bombing, the US classified Indonesia as a frontline country in the global war on terror and provided funds and training to an elite counter-terrorism squad, Detachment 88, set up in the wake of those blasts.
The results exceeded many expectations: The last major attack against foreigners was in 2009, and Jemaah Islamiyah, Al Qaeda's Southeast Asian offshoot responsible for the 2002 Bali bombing, has been crippled by a police crackdown and rifts within the organization. And all of the major suspects who participated in the 2002 Bali attack have been killed or imprisoned. In deed, for the past 15 years, since strongman President Suharto stepped down, Indonesia has been a model of stability.
---