Who are China's potential new leaders?
China's once-a-decade power transition in November may promote these five party members.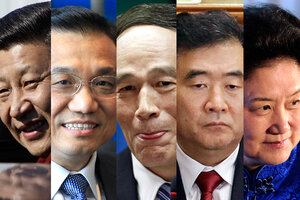 Charlie Neibergall/AP, Yves Herman/Reuters, Ueslei Marcelino/Reuters, Jason Lee/Reuters, Paul Hackett/Reuters
At its 18th Party Congress Nov. 8, China's Communist Party will choose the nine men (and they will almost certainly all be men) who will lead the nation for the next decade. Infighting is fierce and out of view, and the identities of the winners will be top secret until they walk onstage at the Great Hall of the People. Here are five names to watch for:
Xi Jinping: 'the next leader'
Currently the vice president, vice chairman of the Central Military Commission, and head of the party school, Xi Jinping looks like a shoo-in to take over from President Hu Jintao as head of the party this autumn and as China's president early next year.
An ebullient, affable man with a reputation for living modestly, Mr. Xi made his name running two of the economic powerhouse provinces on China's prosperous east coast, suggesting he is sympathetic to more free-market reform.
The son of a former deputy premier, Xi is a "princeling" and a member of what is known as the elitist faction within the Communist Party. But the six years he spent working in the countryside during the Cultural Revolution are said to have given him a better understanding of poor people's concerns.
---