The real reason China-Japan are locked in a territory dispute
Nationalist politics and historical resentments figure big in the China-Japan territorial dispute. But there's another alluring ingredient: oil and gas.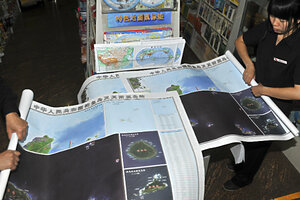 AP
As China and Japan spar over control of a group of tiny islets in the sea between them, the deeper issue is really the question of which of Asia's two biggest economies will gain control first of the valuable oil and natural gas located there.
Since mid-September, a number of Chinese ships have sailed close to the eight uninhabited islands in the East China Sea in order to assert Beijing's claim there. Japan now controls the islets, known as the Senkaku in Tokyo and the Diaoyu in Beijing. Japan's announcement in September that it was buying the Senkaku, sparked mass street protests in China and a diplomatic crossfire so intense that US officials have urged calm.
"If they could get it, oil and gas would be hugely important," says Liu Chia-jen, petrochemicals analyst with KGI Securities in Taipei. "But whoever makes that move will run into trouble," he says, adding that because of those tensions, the potentially enormous oil and gas fields in the region are likely to stay untapped for a while.
China is the second largest net importer of oil after the United States. Heavily-industrialized Japan is the third.
---