Japan's leaders give up on quitting nuclear power
Although Japan's 2011 Fukushima Daiichi nuclear disaster set much of the public against nuclear power, politicians are not convinced.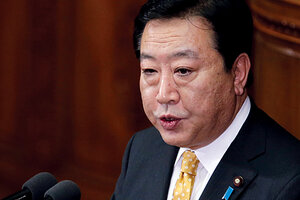 Koji Sasahara/AP
In mid-September, Japan said it would close all 50 of its nuclear reactors by "the end of the 2030s." Days later, the administration backtracked in the face of opposition from the main business lobby and some senior lawmakers in Prime Minister Yoshihiko Noda's own Democratic Party of Japan (DPJ).
Although the 2011 Fukushima Daiichi nuclear disaster has profoundly increased the public's antipathy toward nuclear power, politicians have yet to be convinced. "The majority of Japanese people are now against nuclear power, but none of the major political parties are listening to them," says Hisayo Takada, a Greenpeace Japan energy campaigner.
What happened? Mr. Noda's approval ratings plummeted below 20 percent, and he looks certain to lose the election his party must call by September 2013, so he's doing what he can to garner lobby support.
The most likely outcome is a coalition government led by the opposition Liberal Democratic Party of Japan, which ruled the country for about half a century until 2009. The LDP oversaw Japan's emergence as an economic superpower and a nuclear-dependent nation, developing close ties to big business and nuclear industry. Though the LDP may be somewhat more nuclear-friendly than the current DPJ government, it might not matter to Japan's energy mix which party is in power, says Jun Okumura, senior political analyst at the Eurasia Group.
---