Japan's nuclear dilemma: What to do with all that nuclear waste?
Japanese citizens are balking at the lack of information and supervision of waste stored in public places, such as playgrounds.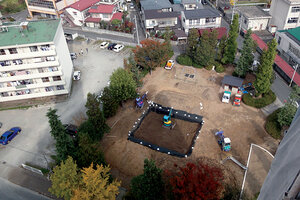 Courtesy of Yasushi Takemoto
The small sandy square in front of Yasushi Takemoto's apartment in Koriyama, a city of 328,000 about 150 miles north of Tokyo, looks like a normal public park. On a recent weekday morning, a group of children played on the swings while the retired dentistry professor strolled under the trees.
Beneath the soil in one unmarked, unfenced corner, however, lie hundreds of bags packed with radioactive dirt, sludge from drainage ditches, and other contaminated debris.
The waste was collected from around the neighborhood last November by citizens trying to reduce radiation from the meltdowns earlier that year at the Fukushima Daiichi nuclear power plant, about 37 miles to the east.
They packed the debris into bags, buried them about six feet deep between layers of plastic sheets, and covered them with soil – all with the approval of city officials.
Radiation levels aren't especially high here because the waste is covered with a thick layer of clean dirt. And because radioactive cesium (one of the main contaminants in Fukushima) binds strongly to clay particles in the soil, the risk of it seeping quickly into ground water is low, say soil scientists at Japan's Forestry and Forest Products Research Institute.
Mr. Takemoto says children have a right to know what's in their environment all the same.
"We'll be able to say these storage sites are safe only after we've collected a certain amount of monitoring data," he says.
---