Indonesia responds to Obama's win: He's still our 'Menteng Kid'
Obama, who grew up in Indonesia, is seen as taking a softer approach to bilateral relations than his predecessor. The US 'pivot' to Asia also ensures continued attention, some say.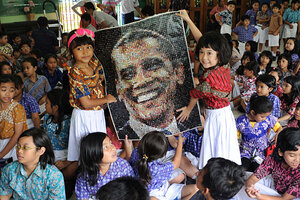 AP
Indonesians from all walks of life cheered President Obama's US election victory on Wednesday, calling it another win for the "Menteng Kid," a reference to the neighborhood where he spent four years of his childhood.
Indonesians pleased with their country's consistent economic growth of more than 6 percent, rising wages, and rapidly expanding middle class said they hoped Obama would boost the global economy and further improve relations between the two countries with another term in office.
"I believe there will be a greater attention toward Asia, including Indonesia, for the benefit of the American economy," says Aleksius Jemadu, the dean of International Relations at Pelita Harapan University.
Indeed, analysts say Obama has helped put Indonesia on the global radar and has taken a softer approach to bilateral relations than he predecessor.
"[President] Bush only saw us as a frontline in the war on terror," says Philips Vermonte, a lead analyst at the Centre for Strategic and International Studies in Jakarta. With concerns about how the US president will influence peace negotiations in the Middle East, he added, "Indonesians are more comfortable with an Obama presidency."
Nardi, a sales and marketing manager at an American-style rib restaurant in Jakarta who only goes by one name, agrees. "We need someone to lead the world, to maintain peace. Since Obama has been president we have seen a good impact for the whole country."
---