Drive for education drives South Korean families into the red
Students took the all-important college entrance exam this week. Many households in South Korea are deeply in debt, and analysts point to high family spending on private education as a key culprit.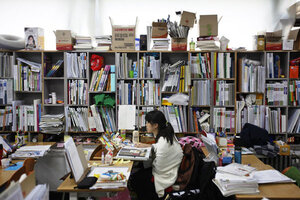 Kim Hong-Ji/Reuters
When Cheon Sun-kyoung and her husband took out a $100,000 loan and moved their family of three from the affordable suburbs to one of Seoul's most affluent neighborhoods, she hoped it would be the start of the climb up South Korea's highly competitive social ladder.
She wanted to enroll her teenage daughter in one of the pricey after-school tutoring academies here to giver her an edge on getting into a prestigious university and, eventually, landing a high-paying job. But for now, Ms. Cheon says her family has to scrape by.
"It's really expensive living here, I even have to buy our groceries in another, cheaper neighborhood," Cheon, a part-time teacher, says. "It's not possible to save any money now because we are paying off the loan we took out to get this apartment."
Despite the efforts of the Korean government to rein them in, more and more South Korean families like the Cheons are channeling all of their disposable income into supporting their children's education – and increasingly driving themselves into debt.
In August, the Bank of Korea released data that shows households here are facing a debt-to-income ratio around 160 percent this year, up from around 123 percent in 2010. Loans taken out from mostly secondary lenders that charge high interest rates total close to $600 billion. As of the end of July, household debt totaled $573.25 billion, according to the Bank of Korea.
---