Vietnam's 'tiger' economy losing its roar
Growth next year is expected to drop due, as recent corruption scandals and splinters within the communist government weigh on the economy.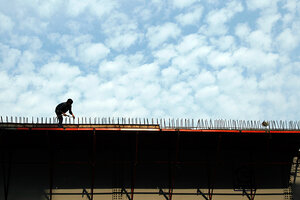 Kham/Reuters
The Ben Hai river running through this small mountain village in central Vietnam marks the 17th parallel, what was the dividing line between North and South Vietnam prior to the exit of US troops and the communist victory in 1975.
It is a historic but neglected part of Vietnam – a world apart from the bustling capital Hanoi, with cell phone coverage disappearing on the snaking road up to the village as the early morning drizzle falls over the steep and green foliage-laden slopes on either side.
Most of the people living along the rural river area are Van Kieu, one of 54 officially-recognized ethnic groups in Vietnam, where rising income levels for urban Vietnamese have not been matched by improved living standards in some isolated rural areas where minorities live.
Despite Vietnam's "tiger" economy years "upland farmers [including and in particular the minority ethnic groups of the Central Highlands] have been left behind," says Roger Montgomery of the London School of Economics.
The Vietnamese government has repeatedly said that it wants to boost living standards in such areas, part of its overall ambition to achieve a modern industrial economy by 2020. But its ability to live up to these pledges are being constrained by bigger challenges facing the country and the ruling Communist Party, raising questions about the direction of Vietnam's economy.
Several recent corruption scandals and multibillion dollar losses incurred by mismanaged, behemoth state-owned enterprises have belied hidden fault lines in Vietnam's economy which could in turn lead to reduced growth.
---