Koreans worry about safety after toxic factory leak
After a series of malfunctions, slow response time to accidents, and allegations of corruption, many South Koreans are anxious about industrial accidents, in part because of the lack of trust in public officials.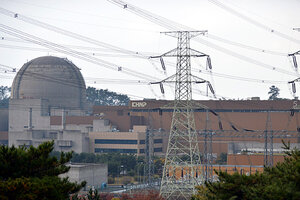 Ryu Hyeong-geun/Newsis/Reuters
On Sept. 27, a dark cloud of gas came over Kim Sun-mi's village in the industrial southwest of South Korea. She knew by the acrid smell that something had gone wrong at the nearby cluster of factories.
She and her neighbors were evacuated, but they returned a day later after being told by the local government that the area was safe.
They went on with life for a few days, which meant preparing for Chuseok (Oct. 1), the equivalent of America's Thanksgiving holiday and South Korea's biggest holiday. Family members from across the country gathered at her place.
"No one bothered to tell us anything [more] about it," says Ms. Kim, adding that, she didn't see or hear anything on TV or the radio that indicated there was anything to worry about.

It was only four days later, after her kids happened upon an article on an Internet news portal that the explosion at the nearby Hube Global factory had caused the discharge of eight tons of hydrofluoric acid, an extremely dangerous substance that, if inhaled, can stay in the human body for up to 20 years and has been reported to cause a range of serious health problems, some of which don't show up for years.
Kim and her neighbors had no idea that the dangerous gas was still lingering in the area and that they had been exposed all that time. The residents doubt anything more would have been done by the government if they hadn't immediately pressed to be evacuated, despite the fact that Korean companies are supposed to have emergency plans and work in close conjunction with the local government in situations like these.
---