Why one of China's richest men is squaring off against Obama in court
Wu Jialiang, CEO of Ralls Corp. is challenging Obama's refusal on national security grounds to let him build a wind farm in America, marking the first such high level case in the US from a Chinese firm.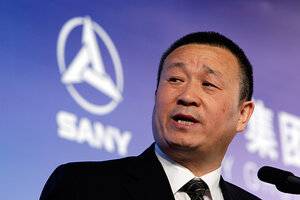 Jason Lee/Reuters
One of China's richest men squares off against President Obama in a Washington federal court today, challenging the US leader's refusal, on national security grounds, to let him build a wind farm in the US.
"We are suing the president because we do not accept his finding that we are a national security threat. It is not true," says Wu Jialiang, CEO of Ralls Corp., whose deal to buy land for a wind farm in Oregon near a US Navy weapons training facility ran into a presidential veto in September.
US and Chinese lawyers say it is unlikely Ralls will win its case, but that the high profile challenge is a landmark in Chinese companies' increasingly bold strategy of investing abroad. It could also serve as a test of Chinese allegations that US investment rules are biased against Chinese companies.
Ralls Corp. is affiliated to Sany Group, one of China's biggest private companies, whose president, Liang Wengen, ranks sixth on Forbes 2012 China Rich List. Ralls co-owner Mr. Wu is Mr. Liang's deputy and proxy.
Ralls bought four plots of land on which it planned to build a wind farm in March 2012. The deal was later blocked by the Committee on Foreign Investment in the United States (CFIUS), a government agency empowered to review foreign purchases of US assets to ensure they entail no national security risk.
---