'Act of Killing': In small screenings, by word of mouth, Indonesians learn of dark past
The new film 'The Act of Killing' recounts the slaughter in Indonesia of up to 2 million people following an attempted coup in 1965. Filmmakers are showing it in small venues to dodge potential censorship.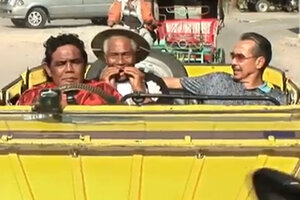 YouTube screen shot
In a small screening room packed to capacity, young Indonesians sat riveted, their eyes glued to images of a village reenacting the massacre of suspected communists by a paramilitary youth group in the mid-1960s.

At moments in the film "The Act of Killing," people laughed. At others they cringed. Some clasped their hands over their mouths in reaction to particularly chilling scenes.

"I'm still in shock," says Handy Pernando, a 23-year-old who emerged from the showing trying to comprehend what he had just seen. "I knew the government was lying to people, but now I've been awakened."

"The Act of Killing" recounts the slaughter of up to 2 million people following an attempted coup in 1965. Then-general and later president Suharto blamed the coup on the Communist Party and proceeded to vilify anyone associated with it during his 32-year authoritarian rule.

The killings are one of the darkest but least discussed parts of Indonesia's history, and "The Act of Killing" has gotten praise internationally for its use of campy theatrics and testimony from some of the actual killers to shine new light on this part of the country's past. In doing so, however, it also implicates many people still in power, as well as a politically connected paramilitary group, the Pancasila Youth.

That explains the showings in small venues. Out of fear the film could be banned by the government, which requires all films to be vetted, its producers, director, and local collaborators have been showing it through underground, invite-only screenings rather than submit it to the national censorship board for approval.
---