Japanese firms set spending record in buying up foreign assets
Japanese corporations will have spent more on foreign companies than they did at the height of the '80s. But few heads are turning, showing how much has changed in perceptions of Japan.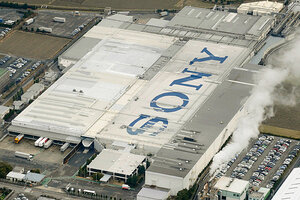 Kyodo/Reuters/File
In the late 1980s, when Mitsubishi Estate bought Rockefeller Center and Sony snapped up Columbia Pictures, the Western media were full of stories of Japan's imminent global economic domination. "Japan as No. 1" was a best-seller, and US autoworkers dramatically took sledgehammers to Japanese imports.
But by the end of 2012, Japanese corporations will have bought more foreign companies, spending more in dollar terms, than they did at the height of the '80s bubble economy. No one, however, seems to be taking notice.
The silence speaks to how a country as well-known for cute pop culture as for cutting-edge technology – and which powerful corporations once feared as a foreign predator – is now seen as down on its luck, struggling to recover from disaster. This perception – along with the fact that foreign takeovers are far more frequent, there are more global powerhouses, and Japanese cars are built around the globe – has allowed Japanese firms to go on an unprecedented spending spree overseas without any of the backlash seen decades ago.
"Japan has gone from being the 'exotic' in the 1960s, to a 'threat' in the 1980s, to just being a part of a rich, cosmopolitan human existence," says Devin Stewart, senior fellow at the Carnegie Council and former director of the Japan Society in New York. "People learn about Japan and its culture nowadays because it is an important part of the world as we know it. It's a place people relate to."
---