Japanese firms set spending record in buying up foreign assets
Japanese corporations will have spent more on foreign companies than they did at the height of the '80s. But few heads are turning, showing how much has changed in perceptions of Japan.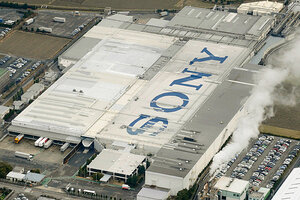 Kyodo/Reuters/File
In the late 1980s, when Mitsubishi Estate bought Rockefeller Center and Sony snapped up Columbia Pictures, the Western media were full of stories of Japan's imminent global economic domination. "Japan as No. 1" was a best-seller, and US autoworkers dramatically took sledgehammers to Japanese imports.
But by the end of 2012, Japanese corporations will have bought more foreign companies, spending more in dollar terms, than they did at the height of the '80s bubble economy. No one, however, seems to be taking notice.
The silence speaks to how a country as well-known for cute pop culture as for cutting-edge technology – and which powerful corporations once feared as a foreign predator – is now seen as down on its luck, struggling to recover from disaster. This perception – along with the fact that foreign takeovers are far more frequent, there are more global powerhouses, and Japanese cars are built around the globe – has allowed Japanese firms to go on an unprecedented spending spree overseas without any of the backlash seen decades ago. 
"Japan has gone from being the 'exotic' in the 1960s, to a 'threat' in the 1980s, to just being a part of a rich, cosmopolitan human existence," says Devin Stewart, senior fellow at the Carnegie Council and former director of the Japan Society in New York. "People learn about Japan and its culture nowadays because it is an important part of the world as we know it. It's a place people relate to." 
In 1990, at the height of the asset bubble in Tokyo, "Japan Inc." made 463 acquisitions of foreign firms. This year, the total is set to top 500 for the first time, with a record total spend of more than 7 trillion yen ($83 billion). IT giant Softbank's $20 billion takeover of Sprint Nextel Corp., announced in October, will be the biggest foreign takeover ever undertaken by a Japanese company. 
The acquisitions this time around are spread across a wide range of industries, rather than the trophy buys of prime real estate that unnerved America during the days of Japan's roaring bubble economy.
"There was a slightly indiscriminate hue to Japanese buying in the late '80s, and companies have learned to be more sophisticated, rather than appearing to be carrying around large wads of cash in their back pockets," says Yuuichiro Nakajima, head of Crimson Phoenix, a cross-border mergers and acquisitions advisory firm with offices in Tokyo and London. 
Overlooking a key point
Japan's financial institutions, their fingers burned badly by the bursting of the bubble that left them with massive, unrecoverable loans, survived the worldwide crash of 2008 relatively unscathed, having taken a more cautious approach  than their Western counterparts. Indeed, it was Japanese investment bank Nomura that bought large chunks of Lehman's European and Asian businesses after the bankruptcy of the US institution in 2008 that triggered the global financial crisis. 
Commentary on Japan often points disparagingly to its shrinking population and domestic market, the challenges of recovering from the March 2011 earthquake and tsunami, and its enormous national debt, which at well over 200 percent of GDP is outranked globally only by Zimbabwe. However, it's often overlooked that the country's overseas assets exceed its foreign liabilities by around $3 trillion. 
"It seems strange, but Japan is also the world's biggest creditor nation and has acquired very large overseas assets over the past 30 years. It gets a very good return on these, providing income of 14 to 15 trillion yen ($166.5 to $178.5 billion) a year," points out Masayuki Kichikawa, chief Japan economist at Bank of America Merrill Lynch (BAML) in Tokyo. "It is this which helps protect Japan from financial crisis, despite the huge government debt." 
And Japan's activity is often overshadowed as the world fixes its eyes on Japan's giant eastern neighbor. "In some ways China has taken the place of the Japan of yesteryear: It has huge firepower and is buying across multiple sectors," suggests Mr. Nakajima. "And, with China, many of these buyers are state-owned, bringing into question whether the motivation behind acquisitions is strictly profit." 
Yet even China, which almost certainly will displace the US as the world's economic powerhouse, doesn't evoke the fear Japan once did. 
"But despite the differences between Japan, which was and is a democratic ally, and China, which is not an ally and is nominally communist, the fear about China today seems tame compared with the hysteria about Japan in the 1980s," says Mr. Stewart of the Carnegie Council. "Back then, Japan was 'taking over the world.' Perhaps people are just more sophisticated about the world and know China faces enormous challenges, as all countries do."
---