Taiwan tweaks Beijing by welcoming one of China's worst critics
The visit of lawyer Chen Guangcheng, who escaped house arrest in China, is a bit of a test for Taiwan's president, who has built his administration around better relations with the mainland.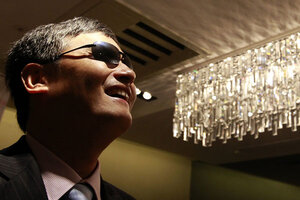 Pichi Chuang/REUTERS
Taiwan, long overshadowed by political and military rival China, reasserted its individuality Monday by receiving one of Beijing's worst critics, civil rights activist Chen Guangcheng.
The Chinese lawyer, who moved to the United States last year after escaping house arrest and reaching the US Embassy in Beijing, gave a number of pro-democratic Taiwan speeches on Monday, the first full day of his 18-day trip to advocate more freedoms and civil rights for Chinese people.
His series of speeches and meetings are expected to put a shine on democratic Taiwan by pointing out contrasting curbs on freedoms in Communist China.
"Taiwan's success with democratization shows that democracy isn't some kind of so-called Western system in its origin, just one that was led by the West," Mr. Chen told a news conference on the island that China claims as part of its own territory.
"Taiwan's success with democracy has at the same time prompted authorities in China to say democracy isn't of value and doesn't suit the Chinese people," the terse but animated activist said. "That lie has completely gone bankrupt."
Legislators and officials in Taiwan's chief opposition party, which advocates more distance between the island and China, are scheduled to meet Chen. The local human rights group organizing his visit says he will give a speech at the island's top-ranked school, National Taiwan University.
"Burnishing its democratic credentials, Taiwan will be playing its most potent card for badly needed international visibility," says William Sharp, author and professor at Hawaii Pacific University. "At the same time, it will step out of China's shadow into the daylight of its own identity."
---