China paves way for landmark trial in charging Bo Xilai
The controversial and charismatic Bo Xilai was aiming for the pinnacle of Chinese political power. Now he has been charged with abuse of power.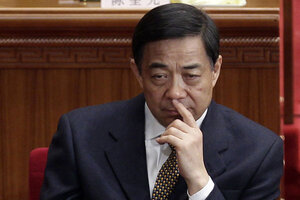 Jason Lee/REUTERS/File
Chinese prosecutors formally charged disgraced political leader Bo Xilai with bribery, embezzlement, and abuse of power on Thursday, setting the stage for the country's biggest trial in nearly 40 years.
No date has been set for the hearing, which could open as early as next week, in Jinan, capital of the eastern province of Shandong. But the indictment, coming 16 months after Mr. Bo was detained, marks a bold step in the campaign against official corruption that new President Xi Jinping has made a cornerstone of his rule.
"This shows the current leadership is determined to send a message to senior cadres that no matter who you are … if you are guilty you can be tried," says Huang Jing, a specialist in Chinese politics at the National University of Singapore.
But the trial will be a delicate affair; Bo has extensive connections throughout the ruling Communist Party and remains a popular figure, admired for his emphasis on social spending and nostalgic "Red Song" campaign, harking back to the days of Mao Zedong.
"This is a very, very difficult case," says Cheng Li, an expert on the inner workings of China's political leadership at the Brookings Institution in Washington. "The country is very divided and public intellectuals are divided over how to deal with Bo Xilai."
Bo's story
Bo, a charismatic and controversial politician, once aimed for the pinnacle of power in China as a member of the seven man Standing Committee of the Communist Party's Politburo.
He was brought down in March 2012 when the former police chief in Chongqing, the city that Bo ran, sought asylum at a US consulate, bearing evidence that Bo had helped cover up the murder of a British businessman.
His wife, Gu Kailai, was found guilty of that murder in August and given a suspended death sentence. The police chief, Wang Lijun, was sentenced to 15 years in jail for initially covering up the murder and other crimes.
Bo "took advantage of his position to seek profits for others and accepted 'an extremely large amount' of money and properties," according to the indictment, the state news agency Xinhua reported.
---