Typhoon Haiyan: Can Philippines build back better?
Typhoon Haiyan may be a window of opportunity for the Philippines to build back better. With each natural disaster, best practices in global relief work are honed. Outsiders can help, but locals may do it better.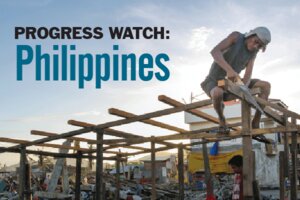 Herman R. Lumanog/Nurphoto/AP
In the desolate aftermath of a typhoon like Haiyan, whose record winds last November killed thousands of people, shattered more than a million homes, and tore up tens of millions of trees, the idea of building back better might sound like an impossible dream, if not a bad joke.
But "building back better" has become a mantra for international aid workers in the wake of natural disasters that have taught them lessons they can use here. And many victims of the recent monster storm here say the goal is an imperative if they are to face the certainty of future typhoons with any confidence.
Right now, across an area the size of Maine, subsistence farmers and fishermen are still scrambling to get any shelter they can over their heads. Tarpaulins from aid agencies, scavenged timber, twisted sheets of old tin roofing, and a few handfuls of nails are all that most of them have at hand as the rainy season sets in. Rice gruel and the occasional canned sardine is all they are eating.
Government officials, in the meantime, are still surveying the scope of the disaster and are occupied with drawing up a recovery program they estimate will cost nearly $9 billion over several years.
There is a chance, though, that the dreadful scale of the destruction, forcing peasant farmers and planners alike to start from scratch, might offer an opportunity for fresh thinking. A silver lining, if you like.
It could be as small as six-inch pieces of two-by-one lumber that a villager can use as roof braces to better secure the roof of his hut against strong winds. Or as big as a new model for the nation's devastated coconut industry, transforming it from a simple supplier of cheap raw export material into a value-adding chain of businesses to create more local jobs and wealth.
Or somewhere in between, like Nestor Villarin's hope that he can harness some of the attention and money that Haiyan has brought to Tacloban to make long-overdue repairs to the city's water pipes, for which he is responsible.
---