A former Cambodian boy soldier defuses his past
Aki Ra laid mines with his bare hands for the Khmer Rouge and now takes them away to villagers' delight and official frustration.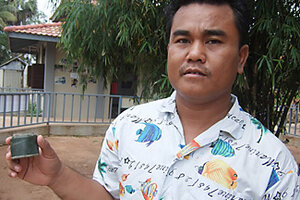 Annie Linskey
Walking through his new land-mine museum, Aki Ra picks up a Russian-made antipersonnel mine. He avoids touching the trigger pad even though he defused the device a long time ago.
"You hold like this, no problem," he says, pinching the sides of the coffee-cup-size mine. It's green, to match the Cambodian jungle where it once lay buried, threatening the life and limb of all who came near. Aki Ra is comfortable handling explosives. He grew up laying minefields for the Khmer Rouge. "I put mines around Siem Reap buildings, Otdar Meanchey, near the Thai border," he says. "I cannot forget that stuff."
He now works to undo that damage. Ten years ago he opened an ad hoc land-mine museum in his home. Back then, it was just a collection of mines that he'd defused, but it drew thousands of tourists who were in town to visit Angkor Wat and other famous temples. Last summer he moved the Cambodia Landmine Museum – to a building that architecture students at Texas A&M University designed to display his collection.
His willingness to show the mines to tourists has made him the unofficial face of the problem in Cambodia. Photo displays at the new museum present him as the little guy trying to make his country safe.
But in the world of official demining and nongovernmental organizations (NGOs), Aki Ra is unorthodox. He has had no formal education. He has an e-mail address but rarely checks it. He dislikes planning – if a village chief asks for help clearing mines, he's apt to stop off, impromptu, to help. His removal process involves creeping up to a mine, prodding the side of it with a stick, and plucking it out of the ground with his hands. Then he moves on. He doesn't keep records. Big demining groups, on the other hand, prioritize location and follow international safety standards. They grid minefields and painstakingly check every inch of land using metal detectors. They rarely touch land mines, preferring to blow them up with explosives. They keep careful records of the number of mines they find and the exact perimeter of the land cleared.
---