In Pakistan, fear of an ethnic divide
The political blame game over Bhutto's assassination and rising ethnic tensions raise worries about the fragility of the country's federal structure.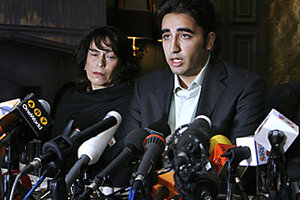 Luke MacGregor/Reuters
Ever since her return to Pakistan in October, Benazir Bhutto's every political move had weighed heavily on the larger political equation in Pakistan. Now, even after her assassination, Pakistan's most prominent civilian leader is having a profound impact on the country's political dynamics, in the run-up to an important general election now scheduled for Feb.18.
The lingering uncertainty over the circumstances of Ms. Bhutto's killing and the unanswered question of who masterminded it is leading to wild allegations, making the mood of the election divisive – at times along entrenched ethnic and regional lines.
Accusations of involvement in the assassination carry the weight of decades of ethnic tensions in an unsettled federation, where the Punjab Province – the power base of the military and strong civil bureaucracy – has dominated other regions.
"It's election time, so any such issue that gets political mileage is bound to come up," says Ayesha Jalal, a South Asia historian at Tufts University in Medford, Mass. "Pakistan has had chronic problems with its federal structure; it's a long standing issue," but Bhutto's assassination has "laid bare some of these strains," she says.
In a country where almost all political parties are ethnic and regional representation groups, Bhutto's Pakistan People's Party (PPP) stood out as the only faction with broad-based national support. Though her party has a sizable vote bank in her home state of Sindh, the party's populist platform gave it a national appeal that no other party has come close to achieving. Many in the country saw Bhutto as the only truly national leader, demonstrated in public grieving across the country.
---