Pakistan: push for polls despite suicide bombing
An attack in Lahore, the first since Bhutto's assassination, raises fresh worries about security for Feb. 18 elections.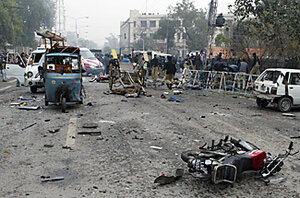 K.M. Chaudhry/ap
Shattering two weeks of tenuous calm following Benazir Bhutto's assassination last month, a suicide bomber struck Thursday in the city of Lahore, the capital of Pakistan's heartland. The spread of violence to yet another city is likely to raise fresh doubts that security in Pakistan is conducive to elections – already delayed until Feb. 18 – that will bolster the country's political process.
Although suicide attackers have targeted Pakistan's other major cities, particularly Islamabad and Karachi, Thursday's bombing, which left 26 dead and 70 injured, was the first of its kind in Lahore, a previously quiet city of 7 million best known for its rich historical heritage and bustling social life.
Analysts warn against delaying the elections again, in spite of the violence. Only the free exercise of the national vote, however flawed and tinged with violence, can guide Pakistan toward greater political stability, they say.
As yet, Pakistan's elections are scheduled to go on. But Thursday's violence highlights the conundrum now facing the country.
Canceling elections, far from solving the country's security woes, could add to them, fomenting a violent backlash from the opposition, analysts say. But if elections do proceed, voter turnout could be low, with frightened citizens thinking twice about attending large political gatherings or visiting crowded polling stations. Low turnout will bolster President Pervez Musharraf's ruling party, which might otherwise face a formidable challenge from the opposition, some analysts say.
---