Nepal on edge ahead of polls
National elections – already twice delayed – are scheduled for April. The interim government voted to abolish the monarchy, meeting a key demand of former Maoist rebels.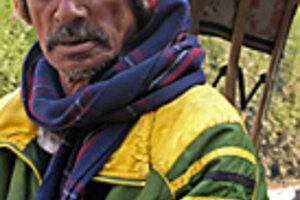 Mian Ridge
A month after Nepal decided to abolish its monarchy, the country's democratic future is far from secure.
Last month, Nepal's interim government voted to scrap the world's only Hindu monarchy and transform Nepal into a "federal democratic republican state." Though the monarchy will not officially be finished until an elected government is in place, that government will not have the power to reinstate the king.
Analysts say the move constitutes a historic step for Nepal, one of the world's poorest countries. The vote has brought the Maoists – the communist former rebels who waged a decade-long insurgency that killed 13,000 – back into the government. And it has allowed Nepal to schedule key national elections – already twice delayed – for April 10.
But the absence of a fully functioning government is taking a toll. The government has failed to fulfill several commitments, from giving assistance to the victims of the war to sorting out the Maoists' demand that their cadres be integrated into the Army. And in recent months, violence has flared in spots. In the southern plains area known as the Terai, home to more than half of Nepal's 26.4 million people, some 130 people have been killed in protests over the past year. On Monday, at least eight people were injured in a bomb explosion in the center of Kathmandu, where thousands had attended a mass rally at the start of campaigning for the elections.
Generally, Nepalis appear to be anticipating the polls, the country's first in nine years. But some analysts have expressed concern about potential disruption of the vote in the Terai, as well as the possibility of a third delay in voting nationally.
---