New bid to control Pakistan's tribal belt
US, Pakistan step up efforts to address the militant haven tied to global terror.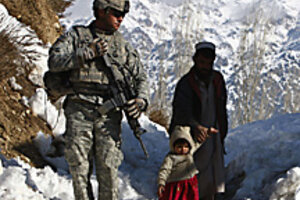 Ahmad Masood/Reuters
After years of Pakistani indecision and US deference, the fight against Pakistan's terrorists, it appears, is now entering a new stage.
Since 9/11, Pakistan has been slow to react to the increasing influence of militants in its remote tribal areas bordering Afghanistan, and the US has been loath to interfere, at least openly.
But this dynamic is shifting since terrorists killed former Prime Minister Benazir Bhutto and are striking at more corners of the country. For the first time, the US is putting public pressure on Pakistan by asking its leaders to let the US help fight terrorists within the country. Though Pakistan has rebuffed these advances, it has shown signs of taking the terrorist threat more seriously, responding quickly and forcefully to militants' increasingly bold attacks.
It is too early to call this a turning point – it is far from clear what effect these efforts will have. But they suggest a new resolve to address what has become the primary launching pad for terrorist attacks against Pakistan, Afghanistan, and the world.
"There is a realization within the military establishment that the government has lost its authority in the tribal areas," says Ismail Khan, a reporter for the English-language daily, Dawn, who covers the tribal belt.
In recent weeks, the US has offered military assistance to root out extremists in the largely ungoverned northwestern regions known as the Federally Administered Tribal Areas (FATA) – with combat troops, CIA operations, or training.
---