Kashmiri mothers hunt for lost sons
Parveena Ahangar leads a group of women searching for 10,000 missing husbands and sons.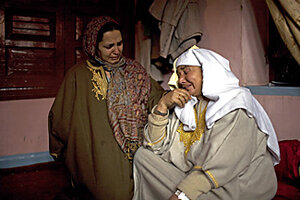 Robert Nickelsberg/Getty Images
A woman with sad eyes and the bearing of a Roman general leads her bereaved followers up the stone steps of the sacred Makhdoom Sahib shrine to seek blessings for Kashmir's missing men.
Near the relics of the saint, they weep and wail for the return of husbands and sons who have vanished during the 18-year insurgency against Indian rule.
A male worshiper objects as a photographer takes pictures – after all, this is a place of devotion. But Parveena Ahangar barks at the worshiper with the moral authority that only a large middle-aged mother can command.
"We have lost our relatives. We are not here for tourism, sir." She stares him down and barks again. "The world must know how we grieve."
The man slinks away.
Mrs. Ahangar is the champion of families left vulnerable in this conflict. She's also a ferocious oddity in a traditional Muslim culture where a veiled woman's place is in the kitchen. This barely literate housewife has become the globe-trotting face of a campaign to account for what human rights groups claim are 10,000 disappeared men.
Indian security forces, an estimated half a million are in the region, have often responded harshly to the attacks here. Missing men have been snatched from their homes or picked up for just walking near the sites of grenade attacks. Human rights defenders say many have died in Indian jails and have been buried under false names.
Indian authorities dispute the disappearance figure and assert that most of those alleged to be missing slipped into Pakistan for guerrilla training, which has coveted this Muslim-dominated area since partition in 1947.
---