Pakistan: Musharraf allies' election prospects fade
Many cite economic woes as campaigning for the Feb. 18 election picks up Friday.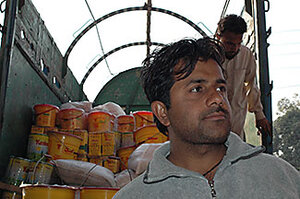 Mark Sappenfield
A crowd has gathered around Sitara Begum. With sarcasm and desperation, she pronounces that she will give her vote in the Feb. 18 parliamentary elections to anyone who can give her a portion of clarified cooking butter. Onlookers laugh, not mocking but commiserating.
The election campaign is now getting under way in earnest, with slain leader Benazir Bhutto's party planning its first campaign rally Saturday, now that the 40-day ritual mourning period has ended. But as the world worries about terrorism, across Pakistan that fear is mixed with other, more basic concerns: how to afford dinner or stay warm amid inflation and hours-long power outages.
These are the issues – largely overlooked outside Pakistan – that are perhaps most likely to motivate Pakistanis on election day. Interviews here as well as opinion polls suggest that Pakistanis want new leadership. While they have no great hope that anyone else is the solution, they agree it is time to give someone other than President Pervez Musharraf and his allies a chance.
"Because of the high prices of commodities, people have changed their priorities and want to vote for some other party," says Mohammed Akram, standing in front of the government store, wrapped in a red checkered scarf to ward off the cold. "This government has cast off the poor."
---