Pakistan's political future? It's all in the family.
Three political clans introduce the next generation of leaders.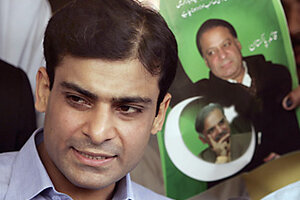 Vincent Thian/AP
Hamza Shahbaz Sharif looks almost wistful as he considers why he decided to run for a parliamentary seat in the elections scheduled for Feb. 18.
"You know, in all these third-world countries, the whole family gets dragged into politics," he says.
As the nephew of former Prime Minister Nawaz Sharif and the son of Shahbaz Sharif, former chief minister of Punjab, Pakistan's most powerful province, he speaks from experience. And his words have a particular resonance in this election campaign.
In a country where politics is a birthright and power is often an inheritance, Pakistan's three greatest political clans are introducing their next generations.
The most famous, Bilawal Bhutto Zardari, who is 19, was named chairman of Pakistan's largest political party after his mother, Benazir Bhutto, was assassinated in December. But he is enrolled at Oxford University and cannot run for office for six years.
By contrast, Hamza is the only Sharif with his name on the ballot this February, since both his father and uncle have been banned – a legacy of their feud with President Pervez Musharraf, he says. Meanwhile, Moonis Elahi – whose father is mentioned as Mr. Musharraf's favored choice for prime minister – is seeking a seat in the Punjab Assembly.
---