Bhutto's legacy propels Pakistan People's Party ahead of election
Her party is expected to do well in Feb. 18 parliamentary polls, analysts say.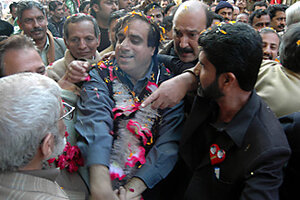 Mark Sappenfield
On the streets of Lahore, the election campaign is in crescendo. A crowd surges through narrow streets, leaving party flags as a man with a megaphone cries: "The blood of Bhutto will bring a revolution."
Technically, this rally is for Jehangir Bader, one of the Pakistan People's Party's (PPP) top candidates. But even for Mr. Bader, Bhutto is the only name in this campaign: "This is all her support on which we are capitalizing."
For the PPP, the Feb. 18 parliamentary election is about their slain leader – her name in every slogan, her face on every billboard – and in death, she could push her party to victory, with one poll suggesting that half the nation supports her party.
"You don't know why we have committed our vote to PPP?" asks Mohammed Suleiman, a shopkeeper who says he has always voted for the PPP's major opponents. "Benazir Bhutto has sacrificed her life."
As the party most clearly aligned with US interests, including a desire to fight terrorists and willingness to work with President Pervez Musharraf, the rise of the PPP could herald a revival of the partnership that the US has long sought – lending the democratic legitimacy of Ms. Bhutto's party to Mr. Musharraf's pro-US policies.
Yet everything hinges on election day. PPP officials say they expect to win a majority of seats in the National Assembly. Analysts and pollsters don't make such a bold prediction, but they agree the PPP is ascendant.
---