Spielberg helps spoil China's hope for a politics-free Olympics
The Hollywood director resigned this week as artistic adviser to the Beijing games to protest China's Darfur policy.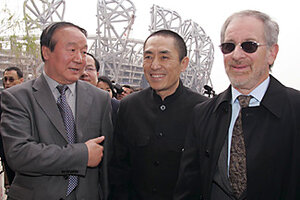 Color China Photo
The Chinese government insists that next summer's Olympic Games are not political. A senior official said as much again on Thursday.
Yang Chunlin has cause to disagree.
Mr. Yang, a social activist arrested recently for distributing a petition titled "We Don't Want the Olympic Games, We Want Human Rights," goes on trial next week, charged with the eminently political crime of "inciting subversion of state power." He faces up to five years in jail.
Politics has burst onto the Olympic scene front and center – complicating Beijing's plans for a trouble-free coming-out party in August – with Steven Spielberg's resignation this week as artistic adviser to the Beijing games in protest of China's Darfur policy.
Mr. Spielberg accused Beijing of not putting enough pressure on its ally, the Sudanese government, to help end the humanitarian crisis in Darfur. "My conscience will not allow me to continue with business as usual," he said in a statement.
Chinese Foreign Ministry spokesman Liu Jianchao responded Thursday that "linking political issues with the Olympic Games is not in line with the Olympic spirit."
---