In Pakistani election, a big swing vote
In Punjab, which picks 148 of 272 parliamentary seats on Feb. 18, many remain undecided.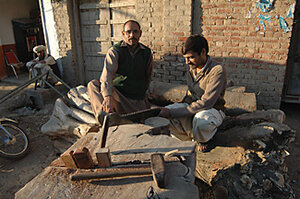 Mark Sappenfield
By the measure of Pakistani politics, Mohammed Yunus just made an extraordinary statement.
The bearded salesman sits in front of his menswear store, speaking of Pakistan's two largest parties, run by longtime archrivals Nawaz Sharif and the late Benazir Bhutto.
"Both parties are very good," he says, adding that he would be happy if either party won.
Like many along this street, his allegiances are split, and in Pakistani politics – where devotion to candidates based on patronage, party, and clan can border on the feudal – they are precious. These people are Pakistan's swing voters, and overwhelmingly, they come from only one province, Punjab.
Monday's election drama is likely to be distilled to the bazaars and fields of this Pakistani heartland. Punjab will almost certainly determine who leads Pakistan alongside President Pervez Musharraf, experts say. Therefore, it is here that rigging will be the greatest concern, they add.
"The entire province has a swing factor," says Ijaz Gilani, president of Gallup Pakistan, a polling firm.
---