Thai leaders spar over autonomy for south
The interior minister says it could calm the insurgency-racked south. Opponents see a step toward secession.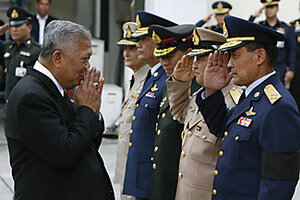 SUKREE SUKPLANG/REUTERS
Seeking solutions to a grueling insurgency in Thailand's Muslim-dominated south – one of the most lethal conflicts in Southeast Asia – the new government has aired an old proposal for peace: autonomy for the restless area.
But frosty reactions from conservatives inside and outside the government, and the distractions of consolidating Thailand's shaky democracy, are likely to temper any bold initiatives to tackle the conflict.
Prime Minister Samak Sundaravej, who is also defense minister, laid out his policy platform Monday in parliament. He said his government, elected in December after 15 months of military rule, would try to resolve the southern unrest, now in its fifth year, but didn't offer specific proposals.
Last week, Mr. Samak, a veteran right-winger, reacted coolly after Interior Minister Chalerm Yoobamrung publicly expressed interest in self-rule as a possible way to defuse the tensions. Samak said it was a delicate issue and that autonomy "might get out of hand," reflecting a deep suspicion among Thailand's elite that self-rule would be a step toward secession. Mr. Chalerm later backed away from the proposal after security chiefs voiced disapproval.
But with no end in sight to the violence, which has claimed more than 2,800 lives across four provinces since January 2004, political analysts say the Thai government must sharpen its responses both to the security threat and to the longstanding grievances that shape the conflict.
Partial autonomy may offer a way to bring southern Malay-Muslims into the fold, they say, just as it was used in Indonesia to end the conflict in Aceh in 2005.
---