Pakistani militant attacks persist, test new leaders
Key Taliban figures in the tribal belt remain at large despite 20,000 troops' efforts.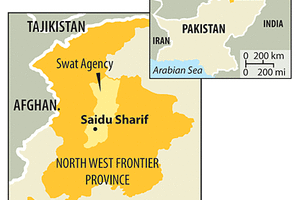 Rich Clabaugh
It was supposed to be a simple cleanup operation: send in 20,000 Pakistani troops and defeat Maulana Fazlullah, a young Taliban leader who last fall took over the Swat Valley, once a tourist haven in Pakistan's North West Frontier Province (NWFP). Or so the military thought.
But their calculations went drastically wrong: Although the Army took back control of Swat's capital in November, Mr. Fazlullah and his commanders are still at large and still on the attack.
In the latest violence, 13 members of a wedding party were killed in a roadside bombing on Friday, while in a separate incident the next day, at least one government security official was gunned down by militants loyal to Fazlullah.
Analysts warn that although it has faded from focus in the wake of national elections, the battle with the militancy in Swat, home to 1.5 million people, is not yet over. It has just changed shape – from a pitched battle between militants and the Army to a protracted guerrilla war with no end in sight. The consequences for Pakistan remain high, and as elections usher in new national and provincial assemblies, this troubled valley will be a test case of their respective capacity to address extremism, analysts say.
"Swat is like a strategic arc. It is an area linking Afghanistan, and on the other side, Kashmir. If this is not contained in Swat, it will have a fallout on the adjoining areas and the whole [NWFP]," warns a high-ranking police official in Swat, who requested anonymity since he is not authorized to speak with the media.
---