'Angel' makes a career in kindness at the 'Bangkok Hilton' prison
Susan Aldous is a friend of inmates and guards alike.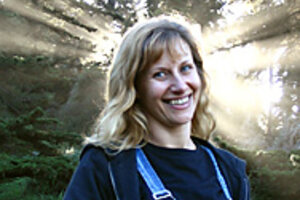 Courtesy of Susan Aldous
As the iron-plated gate is bolted drearily shut behind the petite blond visitor entering the courtyard of the notorious "Bangkok Hilton" prison, a dour guard turns away from inmates shuffling by in heavy leg irons.
"Susan!" he hollers, suddenly sunny, waving at the woman. "You look beautiful today!"
She laughs and teases back in fluent Thai: "Only today?"
For over a decade, Susan Aldous has been coming to Bang Kwang, as the maximum security prison is officially known, several days a week to make good a promise to herself "to turn this place around by getting a smile out of every guard and prisoner.
"It's working, you see!" she beams.
But smiles are the least of it. The Australian woman's humanitarian mission is deeper than that, bringing a shaft of light – a bit of humanity – into dark, forgotten corners. The prison is just one of them. For two decades, the unaffiliated, unpaid volunteer has been a constant presence at Bangkok women's shelters, hospital wards, slums, and upcountry orphanages, tending to the needy, the abandoned, and the despondent – men, women, young, and old.
Today Ms. Aldous is visiting Jaganathan Samynathan. A Malaysian of Tamil ancestry, he's been here for 17 years – practically his entire adult life. Sentenced to death in 1992 at age 24 for attempted drug trafficking, he was given reprieve in the form of a life sentence.
No one but Aldous has visited him in all his years in this overcrowded, disease-ridden institution where packages and help from outside often tip the balance between life and death.
"Susan is making life bearable and worth living," he says from behind a double row of iron bars in the visitors' section.
Thanks to Aldous, says Samynathan, he sleeps in a bed (not on the stone floor) and has more to eat than the prison's twice-daily staple of rice and bamboo-shoot soup, supplemented on better days with poached rats. He can even study online vocational courses, enabling him to "travel in his mind."
---