Who's buying Burma's gems?
Laura Bush's campaign for a global boycott is being undone by China's appetite for Olympic souvenirs made of Burmese jade.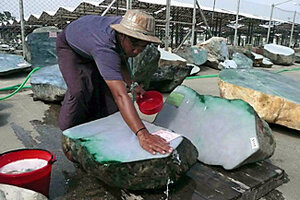 Khin Maung/Win/AFp/Getty Images
It's the last hour of the last day of the gems auction in Rangoon, and tired buyers are fanning themselves with worn auction catalogs, and making their final bids.
Over the past five days, jade, rubies, sapphires, and close to $150 million have passed hands here, according to the Union of Myanmar Economic Holdings Ltd., the consortium that dominates Burma's gemstone trade and is owned by the defense ministry and a clutch of military officers.
Who's buying? China, India, Singapore, and Thailand are scooping up Burma's stones. US first lady Laura Bush's efforts at a global boycott of Burma's gems seem to have done little to reduce China's appetite for Burmese jade to make trinkets and souvenirs to sell at the Summer Olympics.
At this recent auction, 281 foreigners attended, leaving behind much-needed foreign currency and generally turning the auction into a resounding success, according to the state-run New Light of Myanmar newspaper.
Mrs. Bush – and human rights campaigners – would not be pleased.
The first lady has taken on the military regime in Burma (Myanmar), urging jewelers not to buy gems from a country where the undemocratic rulers and their cronies amass fortunes selling off the country's stones, as well as many of the county's other natural resources – such as minerals, timber, gold, oil, and gas – but keep Burma's citizens in abject poverty.
---