Pakistan's new leaders face tough issues
Will parliament oust President Musharraf and negotiate with the Taliban? Legislators convened Monday for the first time.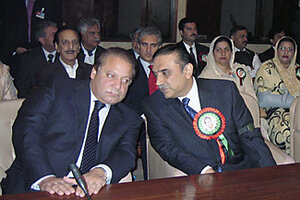 Zulfiqar Balti/Pakistan Muslim League-N party/AP
DELHI; and LAHORE, PAKISTAN
One month after a landmark election changed the course of Pakistani politics, the new parliament convened at last on Monday.
Before it lie questions of enormous importance to Pakistan and to the world – most particularly, how it will rein in terrorists entrenched in the remote tribal areas bordering Afghanistan.
Its attitude toward President Pervez Musharraf could also determine whether Pakistan finds stability or again deteriorates into political crisis.
And, not least, there remains the matter of choosing a prime minister.
Yet for the people of Pakistan, today represents an important moment in the process of replacing nine years of military rule with a functioning democracy.
"[It] is the victory of the public because it is the session of our representatives," says Muhammad Fahim, a young technology professional from Lahore. "We consider it a first step toward the materialization of our dreams."
At Monday's session, members of parliament took their oath of office. The parliament will not begin work in earnest until a candidate for prime minister is announced, which is expected later this week.
The delay is due to indecision in the Pakistan People's Party (PPP), which will lead a coalition government aligned against Mr. Musharraf. Recent reports have suggested that PPP co-chairman Asif Zardari, widower of former prime minister Benazir Bhutto, is weighing whether he should take the job.
---