India's colorful catwalk catches the world's eye
Nearly half the buyers at India Fashion Week, held this month, came from abroad.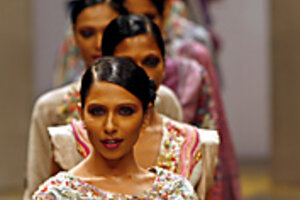 Vijay Mathur/Reuters
As a shapely woman in a clinging purple dress sashays down the ramp at India Fashion Week, a chorus of hoots fills the crowded hall.
Foreign buyers in the front row look bewildered by the excitement over this shorter-than-average model – not the gaunt types normally seen on Paris catwalks. Few of them know she is an adored Bollywood actor, Celina Jaitley.
Indian Fashion Week, which was held in New Delhi March 12-16, featured many such disjointed moments; not surprising, since the event brought together two different worlds: India's fledgling designer clothing industry and the mammoth global fashion business it wants to join.
As India speedily globalizes, its fashion industry is no exception. The country is one of the fastest-growing markets in the world for international luxury brands. And the global fashion industry, in turn, is increasingly enamored with India's homegrown designers.
Global audience in the front row
Only eight years after the country's first Fashion Week, some 70 of the 150 buyers who attended this month's event were from other countries, according to Sumeet Nair, executive director of the Fashion Design Council of India (FDCI), which organized the event.
"There's a sea change going on in the Indian fashion business," he says. "It's not just that our designers are becoming professional and sales are rising; there's a whole industry growing up around them, from stylists to set designers."
---