A priest ministers to the needs of Taiwan's foreign migrant workers
Father Bruno Ciceri offers them shelter, helps them get jobs – and tries to lift the consciousness of a nation.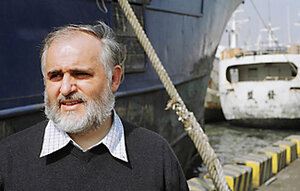 jonathan adams
These days Father Bruno Ciceri is feeling gloomy. Twelve years after he came to this gritty port city to minister to exploited migrant workers, he says their working conditions haven't improved. "I'm seeing everything through dark glasses," he says.
But when he gets too down, all he has to do to lift his mood is walk into the main room of the shelter he runs. There, an idyllic beach scene greets him. From floor to ceiling, the walls are covered with blue skies, sandy shores, palm trees, and a distant volcano. The mural was painted by a Filipina migrant worker who stayed at the shelter. "This is where we've made a difference," says the priest.
Scores of "thank-you" notes are written on the painting to Father Ciceri and his staff – in English, Tagalog, Vietnamese, and Thai. "You are the living saint of the migrants – may you never cease keeping the faith," says one.
The walls are a testimony to one man's impact on an often overlooked social problem in Taiwan. Since Ciceri's arrival here in the country's second-largest city, some 1,500 foreign migrant workers have sought refuge at his Stella Maris International Service Center, most from Southeast Asia. Starting in the 1980s, Taiwan began importing such workers to fill low-end jobs.
Today, some 350,000 migrant workers man Taiwan's cramped fishing boats, care for the elderly, assemble electronics, and work in construction. By all accounts, they make up a shadow labor market dominated by unscrupulous brokers and abusive bosses.
Fishermen are among the most vulnerable. They typically spend six months at sea, with no legal recourse if things go bad. Bullying, sexual violence, and fights are common. When abuse becomes unbearable, some flee when in port. The fortunate ones end up at shelters like Ciceri's.
---