For Beijing, Tibet threat is 'life and death'
Officials say exiled leaders seek independence to break up China.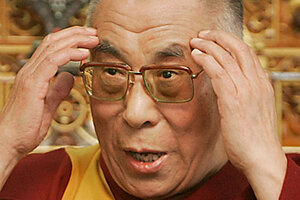 Gurinder Osan/AP
Nothing has emerged so clearly from the recent violence in Lhasa as the gulf between Western and Chinese views of Tibet and of exiled Tibetan leader, the Dalai Lama.
The saffron-clad monk, widely admired in the West as an icon of nonviolent struggle against the occupation of his homeland, was described Wednesday by a top Chinese official as "a wolf wrapped in monk's robes, a devil with a human face and a beast's heart."
The violence of that language, used by Tibet Communist party leader Zhang Qingli, indicates just how gravely Beijing views the challenge Tibetan unrest has posed to the government's authority.
"What other serious threat have Chinese governments faced ... that could be identified with a coherent movement and a single leader – and a charismatic one at that?" asks Robbie Barnett, a Tibet expert at Columbia University.
"We are in the midst of a fierce struggle involving blood and fire, a life-and-death struggle with the Dalai clique," Mr. Zhang warned his colleagues. "Leaders of the whole country must deeply understand the arduousness, complexity, and long-term nature of the struggle."
Chinese officials have offered just one explanation for the unrest in Lhasa: a plot by the Dalai Lama and his government in exile to further their alleged goal of breaking up China by winning Tibet's independence.
---