After brutal years, Kashmiris embrace new calm
Despite sporadic attacks, such as a bombing Wednesday, violence has dropped in the disputed region.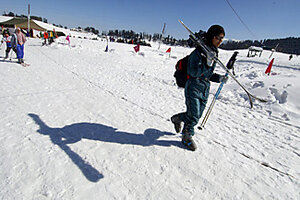 Tauseef Mustafa/AFP/Getty Images/File
Srinagar, Indian Administered Kashmir
Khurram Parvez recalls how the walls of his office shook from daily bombs and gun battles during the height of fighting here when separatists would rush across the Pakistani border to strike at Indian security forces.
Today, the human rights activist says, the explosions of several years ago have stopped and many Kashmiris are eager to seize this lull in fighting to rebuild the contested region.
"People have this idea that, in Kashmir, there are militants on one side of the street and Indian troops on the other shooting at each other, and we're caught in the middle, like this," says shopkeeper Farooq Mir, raising his hands in mock fright. "That was the old Kashmir. Right now things are looking up."
In 2007, conflict-related deaths across the disputed state totaled 777, down from 1,116 the year before and a peak of 4,507 in 2001, according to the South Asia Terrorism Portal database. This translates to a decrease of more than 30 percent, while civilian casualties dropped by nearly twice that amount. In 18 years, 43,000 people have been killed in the conflict.
The calm was interrupted Wednesday when a bomb hit Lal Chowk, one of Srinagar's main commercial arteries, injuring at least 24 people. Islamic militants are suspected in the attack, which occurred not far from where an October 2001 suicide attack left 40 dead. India says it is a sign of desperation after several militant leaders were killed last week.
But the fierce revolt that broke out in 1989 has largely subsided. Tensions date back to partition, when the Hindu ruler of Kashmir, a Muslim-majority state, opted to accede to India instead of Pakistan.
---