Musharraf is quickly losing his grip on Pakistan
Parliament is expected to confirm a new prime minister on Monday, further isolating Musharraf.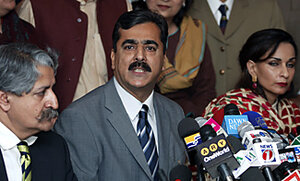 Anjum naveed/ap
In naming its candidate for prime minister Saturday, the party of Benazir Bhutto has taken a further step toward sidelining Pakistani President Pervez Musharraf.
Pakistan People's Party (PPP) loyalist Yousuf Raza Gillani, jailed for several years during Mr. Musharraf's rule, is expected to easily win the approval of parliament in a vote Monday. With the public still firmly against Musharraf and his allies now out of power, each success of the new government leaves him more isolated.
Musharraf has been an American ally in its war on terrorism, but his weakening position could certainly affect the way the United States battles Al Qaeda and Taliban operatives. The new ruling coalition has stressed the need for dialogue with militants – a position that reflects public opinion but may not be welcome by Washington.
Increasingly, Musharraf is finding himself only a spectator, a vastly different position from the one he held as head of the Army until November.
On Sunday at a parade celebrating Pakistan's national day, Musharraf, who seized power in a 1999 coup, hailed the beginning of a "new era of real democracy" and pledged to support the incoming government. "The journey toward democracy and development we started eight years ago is now reaching its destination."
In Pakistan, commentary about the potential new prime minister has been rife with speculation that Ms. Bhutto's widower, PPP co-chairman Asif Zardari, covets the prime minister's job.
---