As dollar sinks, Thais struggle to keep economy afloat
Thailand boomed on exports to the US. Now it's looking at populist incentives to stimulate growth.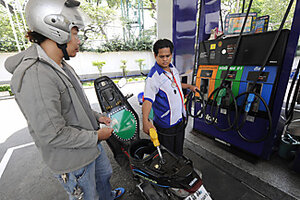 Pornchai Kittiwongsakul/AFP/Getty Images
Frozen shrimp, computer parts, cosmetics, and cheap plastic goods are just a few of this country's exports to America that have helped fuel an economic boom here. But the threat of a recession in the United States – its No. 1 customer – has the government scrambling to find other ways to stimulate the domestic economy.
High oil prices and the falling dollar are likely to slow exports throughout Asia and especially in Thailand, Southeast Asia's second-largest economy. Here, export growth could sink to the single digits for the first time since 2002.
Now, this looming downturn has effectively sidelined a long-running internal debate here over the populist policies first espoused by former Prime Minister Thaksin Shinawatra, who was ousted in a 2006 coup by generals claiming his economic measures were fiscally irresponsible.
Now most economists and political parties have expressed support for those policies, which include cheap village loans and a debt moratorium for farmers, to keep the economy afloat.
"In this environment, when external demand is likely to go down, what Thailand and other Asian countries are going to do is look to stimulate domestic demand to offset any slowdown in external demand," says Ussara Wiraipitch, a senior economist at Standard Chartered Bank. "Fiscal stimulus and monetary policy will be key for Thailand to help manage the country's economic growth and offset any drop in US demand."
Earlier this month, the government passed tax cuts worth 40 billion baht ($1.26 billion), or 0.45 percent of Thailand's gross domestic product (GDP), to stimulate the property sector and boost consumption.
---