Afghanistan to ask NATO for bigger army of its own
At the NATO meeting in Romania Thursday, Afghan officials are expected to request money to expand its National Army from 86,000 to 120,000 troops.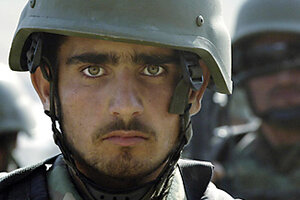 Andy nelson – staff
Afghan officials will go to the NATO summit in Romania Thursday with a request: pay to increase our national Army by 40 percent. A bigger Army, Afghan officials argue, will allow the US and other coalition members to scale back in the coming years.
This appeal comes amid pleas from the US and Canada for other NATO members to commit more to the Afghanistan mission, which many analysts say has floundered over the past year for lack of resources and a coherent strategy. France is expected to contribute another 1,000 forces and Germany is likely to make a bigger commitment.
But American and Afghan government sources with knowledge of the expected Afghan proposal say that an increase from the current authorization of 86,000 Afghan Army soldiers to 120,000 is the only way to create an enduring defense against a resurgent Taliban and elusive Al Qaeda operatives.
"There are two big neighbors, Pakistan and Iran, where extremism and fundamentalism is part of their politics," says Helaludin Helal, a former deputy minister at the Ministry of Interior and now a member of the Afghan Parliament who favors a bigger Army but is not among those making the official proposal to NATO this week. "Extremism is taught there, trained there, and they all come to Afghanistan from there."
---