Chinese get one news source on Tibet
The official news agency provides all coverage for print and TV, while censors closely monitor the Web.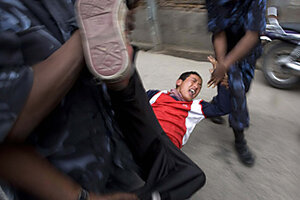 Adrees Latif/Reuters
When the Dalai Lama issued what he called "a personal appeal" to his "Chinese brothers and sisters" last week for an end to misunderstandings that have plagued Chinese-Tibetan relations, the spiritual leader's call went almost entirely unheard by its intended recipients.
Chinese newspapers, TV, and radio – all controlled by the government – ignored his lengthy message. And the few Chinese "Internauts" who found it on websites were uniformly hostile, to judge by comments they posted.
The vast majority of Chinese citizens, relying on state-run media for news and official views, appear to find no fault with their government's handling of recent Tibetan unrest, presented as an outbreak of murderous mob violence instigated by separatist plotters abroad.
"From start to finish, all the coverage of these incidents was led and managed by the Chinese government," says one communications scholar who asked not to be identified because of the sensitivity of the issue. "I assume they feel a big relief. It is regarded by a lot of people as a public relations success."
The government has ensured its control over Tibet-related information in the traditional media by the simple expedient of making sure that only news and commentary from Xinhua, the official news agency, has appeared in papers or on TV.
Not a single case has come to light of any Chinese newspaper using any other source over the last three weeks.
Editors who may have had doubts about Xinhua's veracity or balance appear to have kept silent. Southern Weekend, for example, an independent-minded weekly popular with intellectuals, has not published articles on Tibet since the unrest began three weeks ago.
"If they see only Xinhua articles and none others being published elsewhere, they will see that as a signal that they should not talk about it," says a former editor at Southern Weekend, who asked to remain anonymous.
---