India's jobs plan goes nationwide
Last week, India's government expanded its ambitious program to provide 100 days of minimum-wage employment per year to millions of poor rural farmers.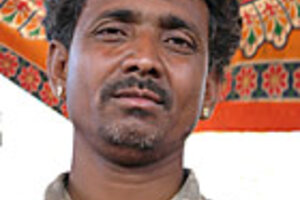 Mian Ridge
Every summer, when the scorching sun turned the fields in the desert state of Rajasthan to arid sheets of dust, laborer Saphi Rabari would migrate to the neighboring state of Madhya Pradesh, where she used to work as a goat herder. Because she took her two young sons with her, there was little point enrolling them in school in either place.
For the past year, however, Ms. Rabari has worked at a government-funded project, building a flood defense wall outside a village in Jalor, a district in southern Rajasthan. The work pays her 100 rupees ($2.50) per day, compared with the 50 rupees ($1.25) she earned herding goats.
Her sons are now at school.
"I won't migrate again," says Rabari, speaking through the scarlet sari that shields her face from the dust, as she shovels dry earth into a metal pannier and places it on her head. "We have what we need here."
Rabari's job is part of the government's National Rural Employment Guarantee Scheme (NREGS), which aims to provide 100 days of minimum wage employment – 60 rupees a day – each year to tens of millions of rural poor in public works like ditch-digging.
India's biggest poverty program
Last week, the program was expanded to the entire country, making it India's most ambitious project to tackle poverty ever – and "one of the most ambitious development programs in the world," according to Professor Jean Drèze, a development economist and one of the program's architects.
The widening of the scheme, for which the government has pledged $4 billion this year, was announced in February's budget, along with a $15 billion loan waiver for small farmers.
Both are designed to tackle one of the greatest challenges facing India: the exodus of poor rural residents into the cities.
---