Nepalese enthusiastically prepare for polls
The new assembly will write a constitution, a key demand of former Maoist rebels.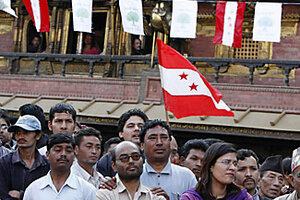 Binod Joshi/AP
Two years after forcing King Gyanendra to hand over executive powers to mainstream parties, Nepalese will elect an assembly April 10 that they hope will conclude a peace process with former Maoist rebels, whose 10-year insurgency killed more than 13,000.
An elected assembly, which will write a new constitution, was a key demand of the Maoists, who ended their war in 2006 and are now part of the interim parliament and interim government.
The polls – postponed twice last year – has taken on the spirit of a festival, despite being marred by four explosions over the past five days. Flags are flying from motorcycles and bicycles and thousands have gathered to hear candidates speak.
But analysts caution that the postelection period will be a challenging one. The Maoists may fare poorly, as they do not have a strong political base and there is resentment against their past violence.
"A poor election result for the Maoists, which is almost certain, can put pressure on their leadership to quit the peace process and possibly resume war," says Krishna Khanal, a political analyst at Nepal's largest university, the Tribhuvan University.
Coupled with their past atrocities, the Maoists' lack of electoral experience could also cost them dearly, analysts say.
This is the first time Maoist chairman Puspa Kamal Dahal, better known by his nom de guerre Prachanda, or "The Fierce One," and an overwhelming majority of his party comrades are standing in an election. During the last national election held in 1999, the Maoists were underground, fighting a war.
---