Phnom Penh's totem elephant – Sambo – survives
The speckle-eared pachyderm escaped machetes and famine, and now rests as Phnom Penh's totem of good things.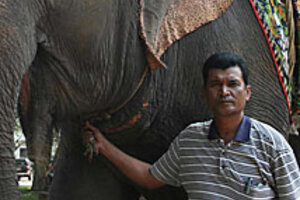 Suzy Khimm
In the center of a traffic-mobbed roundabout, encircled by the crush of cars and motorbikes, a small act of veneration regularly takes place. A small gray-haired woman buys a bunch of bananas and toddles with her cane up to Sambo, a 10-foot-tall, 4,000-pound elephant standing calmly in the urban chaos.
Sambo grasps the offering with her trunk, gobbling the entire bunch in one bite as the woman brings her palms together in a sign of respect for the last remaining elephant in Phnom Penh.
Once plentiful in the Cambodian countryside, elephants like Sambo were historically fixtures at the royal palace. While the animals still evoke the nation's ancient legacy of kings and warriors, Sambo also represents a more recent piece of Cambodian history. Having survived the machetes of the Khmer Rouge she has become one of the capital city's most visible cultural icons – a magnet for tourists, children, and those who venerate her as a sacred beast.
• • •
For Sin Son, a fourth-generation elephant handler, Sambo is a beloved link to life before the Khmer Rouge regime: "For me, elephants represent God – they represent people who have been saved, who have lived a long time."
For more than a century, Sin Son's relatives kept elephants on the family's five-acre plot to transport rice, clear forests, and haul logs. Following tradition, at a time when wild elephants were abundant in the wild, they captured and trained them.
In mid-1977 Khmer Rouge cadres descended upon Sin Son's farm near Samrong Tong, a district west of Phnom Penh. They attacked the family's five elephants with machetes. Sin Son, 24 at the time, watched in horror as the Khmer Rouge seized the animals that his family had raised for generations. When the cadres struck 17-year-old Sambo – the youngest elephant – on a hind leg with a machete, Sin Son could no longer contain his anguish.
---