Big Maoist wins could reshape Nepal's politics
Former insurgents have surprised Nepalis and marginalized moderates.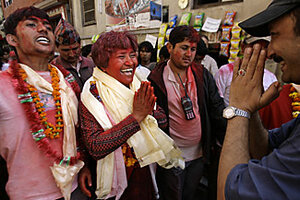 Manish SwaruP/ap
Barely two years after ending an armed insurgency that killed more than 13,000 people, Nepal's former Maoists rebels have stunned themselves, the Nepalese people, and the world with a landslide win in constituent assembly elections that could profoundly change Nepali politics.
The goal of last Thursday's election was to fulfill two Maoist demands: write a new Constitution and end the country's 240-year monarchy. But concerns are growing that Nepal's moderate political parties – which coaxed the Maoists into mainstream politics and forgave past atrocities in the interests of peace – might be sidelined and a more radical agenda prevail.
What matters now, analysts say, is how the Maoists themselves interpret the will of Nepalis. "If they take this as an endorsement of their policy of mass annihilation of class enemies, it will be a catastrophe," says Yubaraj Ghimire, editor of Newsfront weekly. "If they take this as people's recognition of them as the key agent of change, it will be easy for Maoists to work and good for the country as well."
By late Monday, the Maoists had won in 112 of 202 constituencies where counting of the direct vote had concluded. Prime Minister Girija Prasad Koirala's Nepali Congress, which has dominated politics for six decades, had won just 32 seats, while the Communist Party of Nepal (CPN-UML) had won 28 seats. Another 335 seats are allocated proportionally according to each party's percentage of votes, and the remaining 26 members of the 601-member assembly will be nominated by the government. Vote counting for the proportional seats is under way.
---