Afghan lawmakers push cultural bans of Taliban era
A draft proposal put forth last week would ban loud music, women and men mingling in public, billiards, and more.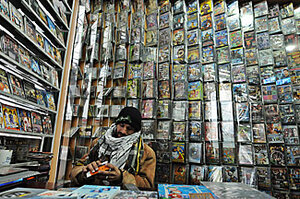 Shah Marai/AFP/Getty Images
– Shafi Samandari thought the days of the Taliban would never come back. "I love listening to music and going to wedding parties," the Kabul resident says. "After the Taliban was toppled, I was sure that we could start living normally again."
The Taliban may not be returning anytime soon, but if some Afghan lawmakers have their way, Taliban-era laws will once again reign over the country. Last week, a group of members of parliament (MPs) put forth draft legislation that would ban T-shirts, loud music, women and men mingling in public, billiards, video games, playing with pigeons, and more – all regulations from the notorious Taliban era.
The move is the most recent attempt by religious conservatives to restrict "un-Islamic influences." Many observers say it's the latest sign of growing Talibanization in Afghanistan.
The draft law comes a week after members of parliament voted to ban wildly popular Indian soap operas from airing on Afghan channels.
The programs, emotional dramas featuring forbidden trysts, family intrigue, and Hindu imagery – drew the ire of conservatives and religious figures.
In January, Afghan journalist Perwiz Kambakhsh was put on death row for downloading an article from the Internet that questioned women's roles in Islam. Mr. Kambakhsh, who was convicted by an Islamic court, is scheduled to appeal in the coming weeks.
Late last year another prominent journalist, Ghaws Zalmai, was jailed for translating the Koran into the local Persian language.
---